We offer dental appliances for patients in need of mouth guards, sleep appliances and bite guards.
---
Bite Guards
Bite guards may be recommended for patients who are experiencing headaches, sore, and stiff jaws that may be caused by teeth grinding or clenching.
Bruxism, also known as night teeth grinding, can lead to:
difficulty opening and closing your mouth
clicking or tenderness of the jaw joints
difficulty chewing
sore, stiff jaw muscles
earache or headache, particularly in the morning
neck and shoulder pain
How do bite guards work?
A bite guard (also called a night guard) helps by propping open your bite and protecting your teeth from direct wear. Any grinding will wear down the appliance instead of your teeth.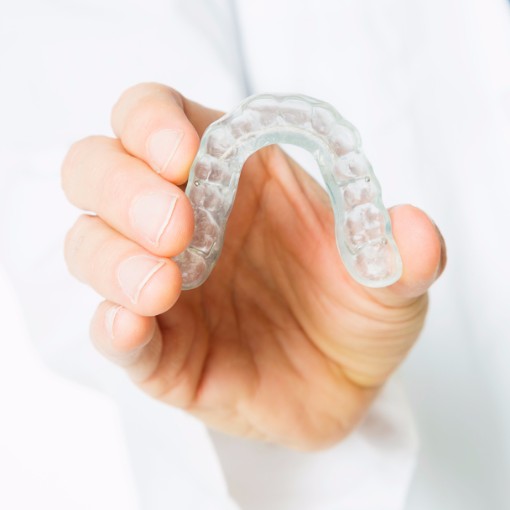 ---
Snoring Devices
At Hollinger Dental Group in Timmins, we provide anti-snoring devices for patients, or their families, who are suffering from the negative health effects of snoring. 
Why might snoring be an issue?
Snoring can cause sleep deprivation and lead to a variety of sleep disorders. Embarrassment can also often arise if others are being affected by your snoring.
How can a snoring device help me?
Snoring devices are a simple, inexpensive, and non invasive way to help reduce the effects of problem snoring and obstructive sleep apnea. Ask your dentist which snoring device option is the right solution for your snoring issues.
Mouth Guards
Mouth guards, also known as sports guards, are important to protect children's teeth during games. Ask your Timmins dentist to be fitted for a mouth guard at your next appointment.
Why need a mouth guard?
Since many sports require the use of a mouth guard to ensure the safety of children's teeth, we recommend that they have a good-fitting mouth guard. We offer mouth guard services for patients as young as 5 years old.
How do we make mouth guards?
At Hollinger Dental Group, we make a mouth guard that is custom to your child's teeth. We will take an impression of your child's teeth and create a customized mouth guard to fit their mouth.
---